Industrial Safety Online is a leader in providing online safety and awareness training for individuals and companies across Canada. This online H2S course provides the learner with the training required to prepare them with knowledge in the event they are exposed to hydrogen sulfide in the workplace, this course provides information to help protect individuals from exposure and explains how to deal with emergencies involving H2S. Please Note: This program is not equivalent to the Energy Safety Canada H2S Alive in class course.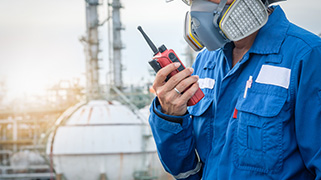 FACertificate ready for print/download upon course completion
FA100% Satisfaction guarantee
FASystem Requirements
Check the requirements
This content developer is recognized by the International Competency Assessment Board (I-CAB) for its expertise in this subject matter and is listed as a competency development resource for I-CAB assessment participants.
This online H2S course covers the following topics:
H2S properties and formation
Where H2S is found
H2S statistics
Atmospheric hazards
Hazard assessment
The hazard control hierarchy
Legislated responsibilities
Personal protective equipment
Types of respiratory equipment
Selecting the correct respiratory PPE
H2S measurements
Safe working limits
Detection devices
Sampling
Emergency scene management
First aid for H2S exposure
This course should take the learner approximately 2 hours. Testing throughout the course is intended to reinforce learning and knowledge is being retained. A passing mark of 80% is required to receive a certificate. The learner will be provided two (2) attempts if the passing mark is not achieved on the first attempt. A certificate of completion will be available for download and print. The certificate is valid for three (3) years.
The course is available on most mobile devices and tablets including Android, IOS(Apple) and those products with a Windows Operating System. It is recommended to launch the course in Google Chrome or Firefox for the best learning experience.