Industrial Safety Online is a leader in providing online safety and awareness training for individuals and companies across Canada. This online Gas Detection course is designed to provide information about detection and control of flammable and toxic atmospheres to help you remain safe while working around potentially dangerous gases. This course explores the features and operation of the most common detector tube devices (bellows and piston) and gas monitors (personal, portable, and fixed) and covers explosive ranges, toxic atmospheres, oxygen levels, flammable substances, flammable gas principles, and vapor detection.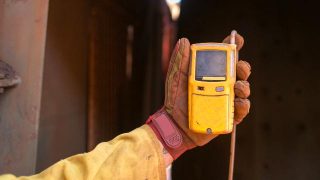 FACertificate ready for print/download upon course completion
FA100% Satisfaction guarantee
FASystem Requirements
Check the requirements
This online Gas Detection course is intended for anyone entering a job site that requires any type of gas detection equipment. Gas Detection equipment can be found on many work sites including refineries, drilling operations, servicing operations, pipeline operations, upstream and downstream oilfield operations, and confined spaces.
This course has eight (8) modules and covers the following topics:
Introduction
Detector Tube Devices
Continuous Gas Monitors.
Combustible Gas Monitors
Fixed Continuous Monitors
Gas Testing
This online course should take the learner approximately 2 hours. A passing mark of 80% is required to receive a certificate. The learner will be provided two (2) attempts if the passing mark is not achieved on the first attempt. Upon successful completion of this course, you will be issued a non-transferable certificate. This certificate is for your sole use and benefit for the purpose of acknowledging that you have successfully completed the online Gas Detection course. By signing the front of the certificate, you acknowledge, agree and assume full responsibility for the use of the certificate. By completing the course in its entirety and passing the final exam, you fully agree that you understand the information received in the course and any wrongful information given to others and/or actions taken is your full responsibility; the course owner is not liable in anyway.