Industrial Safety Online is a leader in providing online safety and awareness training for individuals and companies across Canada. This online Aerial Work Platform certification course provides the learner with the knowledge required for the safe operation of all scissor, push-around, straight-stick boom, and articulating boom lifts.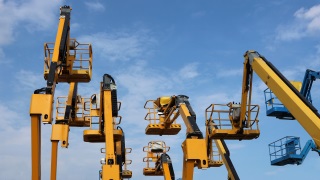 FACertificate ready for print/download upon course completion
FA100% Satisfaction guarantee
FASystem Requirements
Check the requirements
Throughout the course students are provided with access to elevated work platform (EWP) specific OHS requirements for every province and territory in Canada; a practical evaluation checklist; and easy-to-use instructions for evaluating operator competence on the machine. This online course exceeds all CSA/OHS requirements for classroom operator safety training certification in all Canadian provinces and territories, and meets CSA standards B354.1, B354.2 and B354.4, ANSI standards A92.3, A92.5 and A92.6
Please note: A practical evaluation is required to complete the certification process and can be performed by a supervisor or other authorized personnel.
This online Aerial Work Platform (AWP) Certification course covers the following topics:
Federal and provincial EWP-related legislation requirements for the machine, employees, supervisors, and employers
Common EWP incidents and accidents
Different types of EWPs
Machine components, controls, and safe-guards
Capacities and stability principles
Envelope management systems
Best machine choice
Pre-operational inspections
Maintenance
Hydraulic system dangers
Battery charging/maintenance
Rescue planning
Proper communication
Parking and shutting down
This course should take the learner approximately 4 hours. A passing mark of 80% is required to receive a certificate. The learner will be provided three (3) attempts if the passing mark is not achieved on the first attempt. A certificate of completion will be available for download and printing.
The course is available on most mobile devices and tablets including Android, IOS(Apple) and those products with a Windows Operating System. It is recommended to launch the course in Google Chrome or Firefox for the best learning experience.